VoIP conquers Paging and Public Announcement space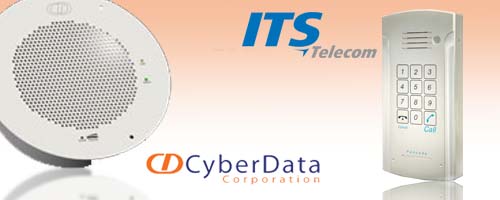 Fort Lauderdale, FL - January 23, 2007- ABP Technology announces two new product lines: Cyber Data VoIP Ceiling Speakers and Paging Gateways and ITSTEL IP based access control door phones.
We are excited to be able to offer our resellers the Cyber Data's ceiling speakers and amplifiers. This line of professional VoIP peripherals completes our partners' IP-PBX systems and enables locations like schools, campuses, factory floors, retail and car dealerships to migrate from legacy PBXs to full IP-PBX functionality.
Last but not least ITS-TEL's vandal proof, inside and outside IP based access control door phones completes the IP-PBX to fully automate office and building access. These can be used together with IP based cameras and Amplifiers to merge IP Telephony with IP based security solutions.
ABP's Robert Messer says, We see our reseller partners as specialists in IP communications and as consultants helping end-users create a unique and complete solution for small and medium sized businesses. Our VoIP Peripherals portfolio, jointly with ABP's complete lineup of the industry's most robust IP Phones including snom technology, Aastra and Hitachi-Cable Wireless IP Phones, gives our reseller base all the elements needed to migrate their customer base to the new world of IP based solutions. Now customer can define their own call-flow and integrate communications into the overall workflow and security requirements of the company.
For more details on VoIP Peripherals, IP Phones systems and open standard based IP-PBX solutions call ABP Technology at +1 972 831-1600 (VARS and Resellers Only, Please)
http://www.abptech.com
About ABP Technology
ABP Technology is a leading distributor of VoIP and IP Communications products operating through a network of Value Added Resellers. Headquartered in Dallas Texas, ABP Technology spans the United States, Canada, Mexico, Central and South America with sales, training, product provisioning, configuration, fulfilment and tech support. ABP Technology features a complete portfolio of VoIP solutions including key products such as AudioCodes gateways, snom IP Phones, and Converged Access advanced IP Traffic management products.
ABP Technology also provides VoIP training for Resellers through its
www.SIPtrain.com
business unit. For additional information on ABP Technology please contact Jenny Ngo at (972) 831-1600 or visit
http://www.abptech.com/