Epygi Releases New Quadro M8L PBX with Advanced Capabilities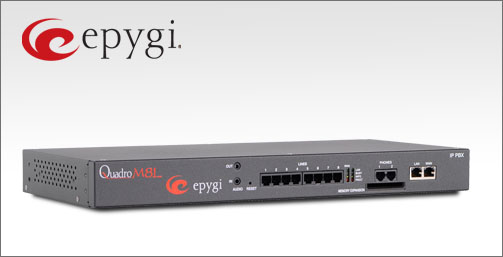 Epygi recently introduced the QuadroM8L, which is intended to cover an office from 32 to 98 users. It offers eight (8) FXO CO lines or six (6) ISDN BRI interfaces and supporting 98 user extensions. The starting IP Phone capacity is 32 IP Phone ports expandable up to 96 IP Phone ports. Also available are two (2) FXS ports for analog devices such as modems or fax machines. Additional memory expansion is also available with a compact flash memory module. A unique offering is the addition of an audio input and output connection. With a built-in QoS router, LAN and voice traffic can be routed to the Internet, eliminating the need for an additional IP router. The Quadro incorporates a stateful inspection firewall, NAT, DHCP client and server, IPSec VPN, and web browser configuration.
This solution provides the call control for SIP based IP Phones and any other SIP compliant peripheral. Users of the system can manage calls by using the Auto Attendant or more advanced control with the Automatic Call Distribution (ACD) feature or Find-me Follow-me routing. Tools like Hot Desking and remote extensions provide further flexibility for offices that may not have a 100% static employee base. Also, now available free with every Epygi PBX is the HotCall feature. This plug-in gives Outlook users to ability the click-to-call directly from Outlook and handle incoming calls on their PC. We will be exhibiting Epygi Quadro products at ABP's IP Sizzles Roadshow this year. Make sure to learn more about IP Sizzles and sign up to attend at a city near you.
Standard features of the QuadroM8L include auto attendant, unified voicemail, unified fax, full SIP support, free upgrades and a number of other standard features. Purchasable features include automatic call distribution for call centers, call recording, supervisor barge-in, silent agent monitoring, supervisor whisper, integrated conference bridges and a XML application programmers interface. All of these powerful tools empower the business owner to take full advantage of the voice technology available on the market today. Although the QuadroM8L does not introduce any unique features to the VoIP market space, this solution will provide medium businesses to small enterprise customers, features usually only available to large enterprises. Due to its low MSRP price of $2,395 and built-in feature sets, all companies globally are able to afford a comprehensive solution that at one point was not available to them.
Just like all other Epygi products, the QuadroM8L offers small to medium-sized businesses video call support for free. In the past, this feature has only been available to large enterprise companies and was an expensive capital investment. This now allows SMBs to cut down on travel expenses, while still affording them the personal interactions with fellow employees and possible customers. In addition, Epygi has teamed with VoIP video devices and IP-based cameras, such as the solutions offered by Mobotix, CyberData, Grandstream and Unidata, to create a completely integrated VoIP security system that will stream video through the security cameras to video phones whether it is a desktop model or mobile with Wi-Fi. The QuadroM8L now allows business owners and home owners the ability to manage and monitor their property where ever they may be.
Epygi's products are all solid state and purpose built appliances. There are very few solutions on the market today that can express the same message. Having full control of the hardware and software, Epygi has been able to achieve some very exciting technical milestones. Even though they use some special code behind the scenes, all of their solutions are still open standards, which means they support the most popular brands of SIP compliant peripherals on the market today. This is why ABP is very excited about these new developments and no matter what endpoints you choose, Epygi will be able to provide for high quality voice and video calling from this new reliable, and robust product.