Altai Launches Incredibly Powerful, Small, Light Weight Multi-Functional AP. Available Now At ABP!
ABP Technology announces the introduction the A2e to the Altai Super WiFi product line. The A2e seamlessly integrates into the Altai WiFi network or can be used as a stand-alone device. The A2e has the maximum capacity offered by 802.11n and operates as an Access Point, Access Repeater or CPE. This product also offers fast Ethernet back haul or use the integrated 802.11an 5GHz radio with optional antenna. When used with the optional 5 GHz antenna, it also provides long range back haul which is separated from the access network (non-mesh).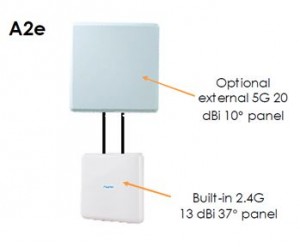 The A2e is an extension of the highly functional A2 with the following important differences. The A2e comes with a built in 2.4 GHz high gain antenna and radio providing directional WiFi access for applications such as office parks, educational/campus environments and hospitality locations. We have found, also, that Altai is especially effective in providing wireless connectivity to IP Video Surveillance systems.
Key product highlights include:
- Access Point/ Bridge/ Repeater/ CPE operational modes
- 802.11b/g/n access / 802.11an back haul
- Up to 450 m NLOS range for AP with built-in 13 dBi antenna
- Up to 25 km LOS range for bridge with external 20 dBi panel antenna
- Light-weight, IP67 weatherproof design with built-in lightning protection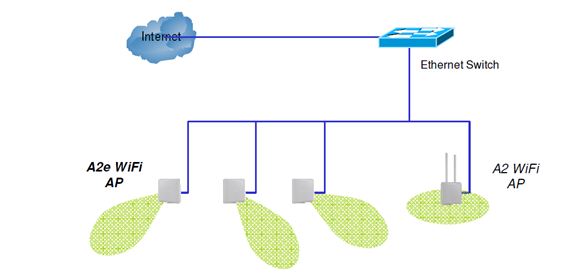 With the introduction of the A2e, Altai Technologies continues its world leadership in providing innovative flexibility in indoor and outdoor WiFi network deployment. ABP Technology is proud to represent Altai WiFi in the Americas. The A2e is available for immediate distribution and we are offering a limited time introductory promotion of a free Altai C1 with your order. Please contact your ABP account representative for details.